6 Октябрь 2021
Research Department on Viral Hepatitis, Research Institute of Virology
In May 2016, the World Health Assembly adopted the first Global Health Sector Strategy on Viral Hepatitis 2016–2021. The main goal of the strategy is to eliminate viral hepatitis (VH) as a public health problem. This is reflected in the global targets to reduce new viral hepatitis infections by 90% and viral hepatitis deaths by 65% ​​by 2030. To achieve this goal, it is necessary to conduct scientific research to identify the prevalence of VH in Uzbekistan, conduct vaccination, study the factors and pathogenetic mechanisms leading to the development of cirrhosis and study the effectiveness of therapy in our country.
Department tasks:
Screening of the population of Uzbekistan for the detection of viral hepatitis B and C.
Assistance in diagnostic and treatment in family polyclinics and hepatological centers.
Study of the effectiveness of antiviral therapy for HBV, HCV hepatitis.
Study of the effectiveness of vaccination against viral hepatitis B among school-age children.
Study of the impact of COVID19 on the course of chronic viral hepatitis and liver cirrhosis.
Study of the effect of COVID19 on mortality from liver cirrhosis.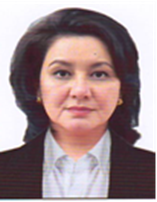 Rano Ibrahimovna Kasimova
Head of department of viral hepatitis Research
1994-2001 - Tashkent Pediatric Medical Institute, student
2001-2004 – Clinical resident of the Tashkent Institute of Advanced Training of Doctors, Department of Infectious Diseases
2004-2006 - Postgraduate student at the Institute for Research in Virology
2006-2009 -Tashkent institute of Advanced Training of Doctors, department of infectious diseases - trainee-teacher
2010-2021 - Tashkent Institute for Advanced Training of Doctors, assistant of the department of infectious diseases
2010-2021 - Tashkent Institute of Advanced Training of Doctors, assistant of the Department of Infectious Diseases
2021- present -Head of the Department of viral hepatitis Research